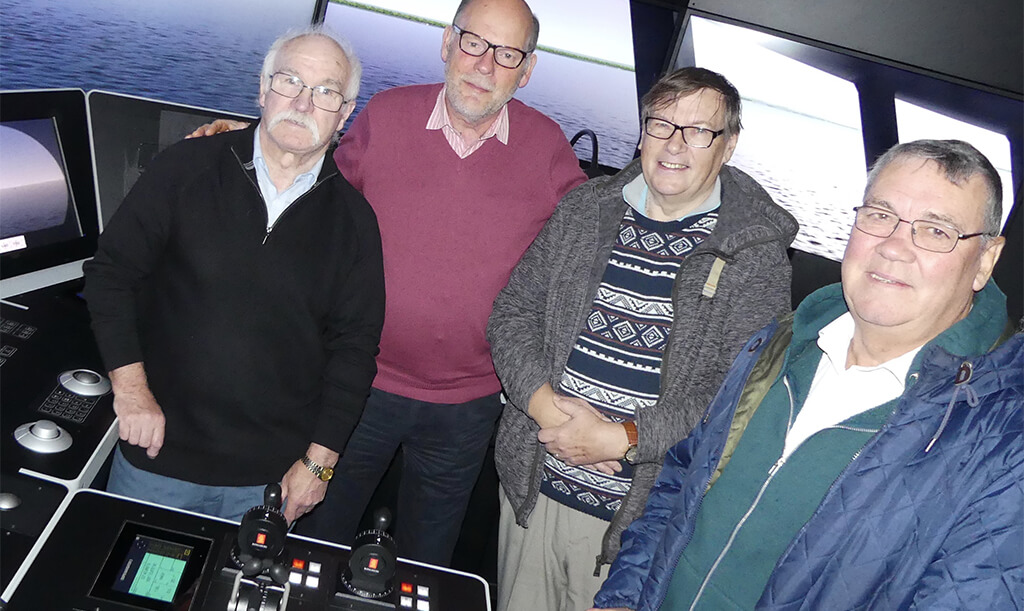 Former Nautical College students reunite for tour of new cadet facilities
Four former Grimsby Nautical College students heralded the return of Merchant Navy training to the town as they reunited for a tour of the new Humber Maritime College.
John Thorpe, Fred Taylor and Francis Rook, who all enrolled together in 1964, joined Stuart Clapham, who joined in 1966, for a look around the new facilities, based in Immingham.
Grimsby Nautical College was part of what was then known as the Grimsby College of Further Education, now the Grimsby Institute, which forms part of the TEC Partnership.
Based at Nuns Corner and Lockhill, its aim was to prepare candidates for the Ministry of Transport Certificates for the Merchant Navy and Deep Sea Fishing Service, including navigation, fishing, marine engineering, radio officers, cookery and Morse.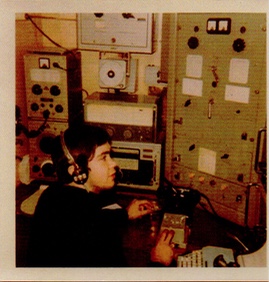 Stuart, who originally hailed from Derby, said: "It was the quality of the college that brought us here. I wanted to join the Merchant Navy and a good friend of mine was already here and I'd heard good reports.
"Having looked round the new site, I wish I was sixteen again and starting over with these fantastic facilities. What better for a career in the Merchant Navy."
The group of four former students toured the Grimsby Institute's Nuns Corner site and halls of residence, before visiting Humber Maritime College which, from September, will deliver a full cadet programme for those aiming to enter the Merchant Navy as officers.
State-of-the-art simulators will bring the marine environment to the classroom, while offshore training will take place through sponsor companies which cover all academic fees.
Looking round the new facilities, John said: "In many respects there are so many similarities now to our organisation way back in 1964. The model was a success then and we are sure this will be also.
"We were a uniformed course, had a hall of residence, theory and practical lessons. We had access to the best equipment of the day to train on and experienced ex-Navy instructors. We had 'seamanship lessons' where we went sailing and rowing in the nearby dock on a Wednesday afternoon.
"However, the bridge simulators were certainly something we did not have in our days and shows how much things have developed since then."
Another difference in the 1960s was that students received grants from their local authorities to fund the course, and had to pay for their own uniforms upon joining the Merchant Navy.
John added: "I'm absolutely delighted that a nautical college has returned to Grimsby. It was a great time of our lives with a great group of guys.
"We had no real knowledge of what to expect but embraced it, and subsequently have all been successful – probably because we gained that work ethic at college to start with."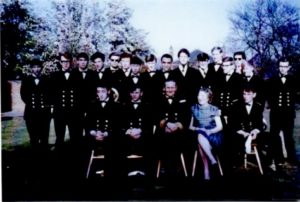 Originally from Leicester, John said the two predominant industries in his hometown were hosiery and the manufacture of mechanical clocks. Having little interest in either, he looked further afield and eventually settled on joining either the Merchant Navy or police force.
"Grimsby Nautical College was advertising at the time, so I came up and had a look round and decided on it.
"One or two of us, including myself, found the theory side difficult to start with, so we qualified for a lesser ticket for pleasure yachts and trawlers as a radio operator while we were put back a term. I got a galley boy job which I enjoyed, peeling potatoes and the like, then after that went to sea in the college holidays. I was doing 18 to 20 day trips at a time, which paid my way through the course.
After starting work, with a view to saving up to buy his uniform, John was approached by the Ross Group and spent four years with the organisation.
"It was an amazing time; I stayed for four years and had a lot of success money-wise while enjoying every minute."
Stuart spent 12 months in the Merchant Navy, before leaving to join the aviation industry. Reminiscing about his time at college, he said: "The course was taught over five full days and four evenings at college, plus Saturday mornings. We didn't have time to get bored!
"I had only just turned 17 when I came to college here with a bunch of people a similar age. A lot of bonding goes on and we grew up very quickly."
Francis, from Rye in East Sussex, added: "We got a list of colleges that did this course, including Southampton, Colwyn Bay and Fleetwood, but Grimsby was the most modern.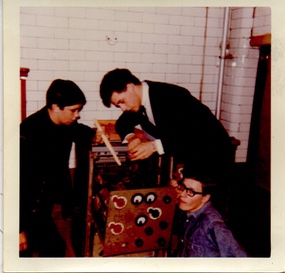 "It had a lovely setup when I first went there and the fact you were offered halls of residence was relatively attractive. When I got here it hadn't been established though so I started off at the YMCA, which was pretty rough in those days, then went into digs with others. John and I eventually got ourselves a flat in Bargate and had a rare old time.
"The course was incredibly comprehensive; we learned all aspects of ship construction, basic engineering and how components were made, right down to the atomic theory, with a very exacting exam at the end."
The theory exam had a 60% pass mark, after which students started work on the practical side of the course.
"We had to escape a sinking ship, which was all done in swimming pools thank goodness."
Francis went on to study a television and radio servicing course, before joining Marconi and working out of East Ham and Newcastle.
"I did a trip with Hain Nourse before joining Maersk. After two circumnavigations during a 15-month trip, the opportunities went mad and I ended up in Vietnam for a time."
He then went into electronics manufacturing, before running his own factory. "The training I had gave me an incredibly good foundation and got me into so many different things," he said. "I had the ear of the people building Concorde and made lots of political friends; it was just an incredibly good grounding for life.
"Coming back to the college has been wonderful. You develop an affinity to your mother college and there are still a lot of former students dotted around the world who keep in touch."
Fred, from Grimsby, said he was "fortunate" to live at home while at college, however didn't get a grant to help cover the course. He worked with companies such as Reardon Smith Line, Marconi and AMPTC Kuwait, before eventually returning to the Grimsby Institute to study instrumentation.
"I think it's brilliant that something like this is coming back to Grimsby because for years following the decline of the fishing industry, there was nothing for young people in this town."