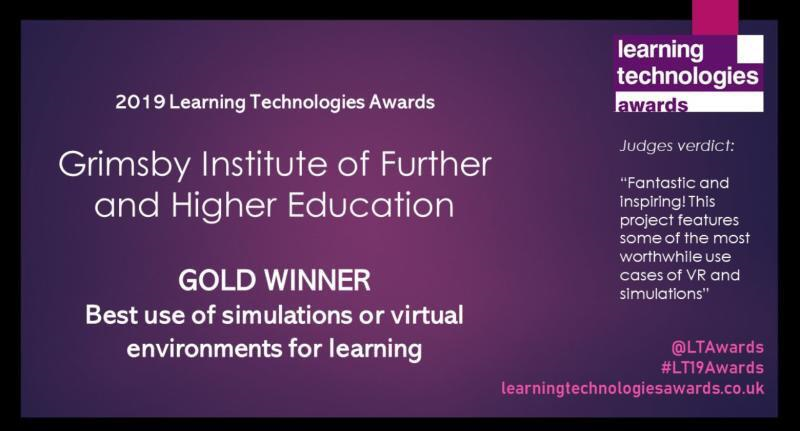 Awarded gold for best use of simulations or virtual environments for learning
Modal Training was commended on its "inspiring" use of simulations for learning as it scooped a prestigious international award.
As part of the Grimsby Institute, the training centre was awarded gold for best use of simulations or virtual environments for learning at last night's 2019 Learning Technologies Awards.
Modal uses state-of-the-art simulators to provide a range of courses through its subsidiary organisations; driver, logistics and health and safety training at Transafe Training and engineering and navigation cadetships at Humber Maritime College.
The award submission showcased a whole-college approach to the use of simulator technology to increase social mobility, aid in job outcomes and support local employers.
As a result, employers have a larger talent pool and students are increasingly work ready and interested and motivated to achieve beyond their own expectations.
It faced strong competition from national and international organisations such as Immerse and DHL, Universal Robots Academy, University of Reading, Make Real and Lloyds Banking Group, Leeds Institute of Medical Education and IsBank.
However, judges commended the Grimsby Institute and Modal for a "fantastic and inspiring" project, which features "some of the most worthwhile uses of VR and simulations".
Hugh Callaway, Managing Director of Modal Training, said: "We are delighted to win this international and highly prestigious award.
"The simulation training we offer provides a risk free way of training, allowing novice candidates to experience scenarios that would be too dangerous to practice in a live situation.
"This enables them to gain hands-on experience in an environment as close to reality as possible. This form of training is both safe and cost effective, benefiting employers and employees."
The Grimsby Institute also won a bronze award for learning technologies team of the year, with judges praising the "energetic and imaginative" team's delivery of a "world-class learning experience", and were shortlisted for the best use of social and collaborative learning technologies.
Courses offered at Transafe include CILT Logistics and Transport, LGV Driver Apprenticeships, Transport Manager CPC and Driver CPC.
Humber Maritime College's engineering and navigation cadetships, which lead to an exciting career in the Merchant Navy, are now also recruiting for 2020.